Having a business presence online means getting stuck into content marketing.
It's a part of online marketing that affects your bottom line and your ideal client. In my experience of working with single-owner businesses, the biggest problem they face is managing all the moving parts involved in a solid approach to content marketing.
With blogs needed one week, emails the next and a peppering of social media in between, overwhelm is never far away. I've been there. And wrestled with the uncertainty of what to post, when, and in what format.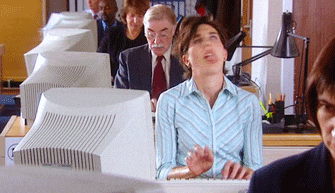 But publishing content that attracts the right potential clients and gives them a reason to stick around and trickle down the sales process is possible when you have a tight content marketing strategy.
How do you get a content marketing strategy for your business? By following this guide.
Based on what I've done for my own business and my small business clients, I'll walk you through the process so you understand what goes into a good strategy and how to bring it to life.
At the end of this guide is the option to download a checklist.
This summarizes everything you've read and gives you the practical points for pulling your content marketing strategy together.
What is content marketing and why do businesses need a strategy?
Before investing lots of time creating a content marketing strategy, it's worth understanding what content marketing is and why you need it.
Content marketing is a part of digital marketing. It's creating and sharing information in different online formats (blogs, emails, downloads, social posts, etc.) with the main aim being to attract and keep your ideal audience.⁠
Rather than pitching your service or product directly, content marketing addresses your audience's needs by answering their concerns and questions while familiarizing them with your offering.
Is creating a strategy and publishing content worth it? According to the Content Marketing Institute the most successful businesses have a content marketing strategy. It provides clear direction for resources and establishes priorities.
When writing your content marketing strategy, the things you want to keep in mind are research, measuring, creating, publishing, promoting and optimizing. Each of these considerations are covered in this guide.
Know who your audience is
Successful content is created for a clearly defined audience. Hopefully you already know who your ideal client/target audience is. If not your first step is building that audience profile.
QUICK START FOR TARGET AUDIENCE RESEARCH

This is by no means all you should do to get to know your audience. But if you're completely new to this, answer the following questions as a starting point.

1. Who is your demographic?
2. What job(s) do they hold/industries do they work in?
3. What are their hobbies?
4. How do they consume content and what channels do they use?
5. What challenges do they face that your business/product/service helps with?
6. How do they make their purchasing decisions?

Knowing your target audience means finding evidence that supports any assumptions you may have about who they are.

Categorize your content
The overall goal of content is to drive brand awareness that results in an action being taken which generates revenue. This is a very broad goal. Secondary goals that allow us to categorize each piece of content makes the mammoth task of turning content into a sales tool more manageable.
A piece of content's secondary goal may be to:
educate
nurture
serve existing customers
cross-sell or up-sell
generate new leads or customers
build authority
engagement
establish expertise.
Understanding the content's goal brings clarity to its purpose, offering clues about where you should publish it and to which segment of your audience it's relevant to. (More on this to come.)
Choose the metrics
Once the goal is set, decide how you'll measure its progress and what parameters need to be met to judge its success. You may hear these called key performance indicators, KPIs for short. As you'll see in the table below there are lots of KPIs to choose from. The most relevant measurement depends on the type of media you're producing, such as video, email, pay-per click and so on.
Keep an eye on your metrics by tracking them in a simple spreadsheet. Add your first date and the metrics at that time. Check again a month later and record the change. Take your tracking to the next level by noting the small changes you've made to the content—tweaked a headline, added an image, changed the lead magnet, etc—so you have reasonable evidence showing the impact the changes have had.
Extra tip: You might even consider integrating this with your keyword URL map.
Budget influences strategy
As a single-owner business your plate might be full already with the day-to-day running of your company. Creating content from scratch is a headache you don't need. Outsourcing is a great option but it means paying creatives to complete the work, which means you need a budget. Setting a budget determines how much content you can afford to have produced each week, month, or year.
How much should you budget? As a general rule of thumb, the Small Business Administration suggests a budget of 7%-8% of your revenue. However, given the number of variables at play in content creation you may need less or more than this.
Some of the variables I'm talking about include:
design
writing
editing
task management, automation tools/software
advert (PPC) spend
video and/or sound editing
outsourced project/content management
influencer marketing
web development
The services you'll need will depend on the media you're creating. You may choose to handle some of it yourself. For example, if you're happy to write your content you won't need to budget for a copywriter, but you might still want it professionally edited before setting it live.
Content for each stage of the buyer journey
The buyer journey is the framework that assesses how likely someone is to buy your product or service. Split into four stages, the buyer journey is:
awareness,
consideration,
decision and
loyalty.
Not everyone arrives at your business at the same stage of the buyer journey. Creating content tailored to the different stages helps speak to the specific needs and concerns of a buyer so they feel heard.
For example, the awareness stage is your chance to connect with your target audience and introduce yourself. The best content types to reach your audience in this stage could be an authority-building blog or an ultimate guide.
In the consideration stage, your content should be a bit more technical and in-depth, explaining how your product or service is the solution to their problem. A cost calculator or videos that show your product or service in action are examples that work well in this stage.
By the decision stage, your audience is close to committing to spending money with you. Focus your content on converting your audience from a lead to a sale. Types of content that work well here include, testimonials or promotional offers to help sweeten the deal.
Once your customer hits the loyalty stage your content should make the customer feel good about the decision they made to buy from you and not the competition. Aim to create content that encourages such loyalty that they refer you to others or buy again.
Organizing your content
Keep up with what's going out and when by creating a central document that contains all of the information that feeds into your strategy. An editorial calendar is one piece of this and guides you on what content pieces to publish, when and where. Your document can be as simple as a multi-tab Google sheet or you could invest in online software like ClickUp, Hootsuite, Trello or Asana to stay on top of it all.
I create a central content strategy document in Google sheets for my clients to see. Depending on how they like to work, they can either continue using the Google sheet or input the information in their preferred platform. The screenshot above is how I organize my client's content marketing strategy, complete with links to all the pieces that support it.
Content organization should consider the team member's involved and the system's ease of use. Having a process that's hard to use may deter you and/or your team from using it.
Publishing on the right distribution channels
Consumers access content in many different ways: through social media, listening to podcasts, watching video, reading articles, etc. Content strategy and creation becomes overwhelming when trying to show up everywhere and presenting all of your content in all media formats. Well, you can breathe a sigh of relief. A solid content strategy means showing up only where it matters and investing your time and energy in a few channels rather than every channel.
The type of content you create (video, email, podcasts, etc.) must match where your audience hangs out. If they're LinkedIn fiends, you should focus on creating content on LinkedIn. If they're email junkies, make sure you're rocking up in their inbox every. Darn. Day.
A rundown on types of content
You have the topic and channel choice, it's time to determine what content types you'll use. And while blogging is one of the more commonly known ones, there are a bunch of formats to choose from.
Topic ideas and themes
Coming up with one idea or theme that's at the center of several content pieces is a great way to batch your work, which can save you time. It's simpler to stay focused on your task and allows you to pull topics ideas for future dates so you're not frantically figuring out what to publish next.
Finding topics and themes
Let the keywords you want to rank for (or improve position for) guide you. Maybe you're sitting on page two or three for a keyword. What content can you create that will support the keyword and content you already have?
If you already create content for your business, revisit the content you have available, checking it's performance.
QUESTIONS TO ASK WHEN EVALUATING EXISTING CONTENT

Can it be improved?
Are there related topics you can cover?
Are there any repurposing opportunities?
Consider holidays, promotions, and all ideas you've either got in your head or in a list.

Add the topics to your editorial calendar. Include the type of content and the channels it will be distributed to.
Create the content
Finally! We've reached the point in the strategy where it's time to create your content. This is where you grab a drink, turn on the tunes and get focused. (Or you send a brief to your designer, copywriter, videographer.)
When creating content, note in your content organization system if different formats are needed for repurposing and distributing.
Publish and set a distribution schedule
Content strategy doesn't stop once you've published your material. It needs regular distribution. You may want certain pieces of content to keep showing up in front of your audience more than others. How do you decide what to share often? Keep an eye on those metrics we talked about earlier. They'll tell you which pieces of content are rocking your audience's world so naturally you'll keep sharing those.
Additional reasons to share some content more than others:
it's time sensitive, such as a limited time offer
it's timely and newsworthy so will get attention
it's an ongoing offer and best seller.
Publish and set the velocity for redistribution. An example of this is after the initial publish date, republish 14 days after, 30, 90 and 120. After this point your content can go into the review stage for a refresh so your audience doesn't grow numb to it.
Final thoughts
Getting a content marketing strategy up and running is a big undertaking. But there is a satisfying payoff once you've invested that initial time. With a strategy in place your whole content creation process will be much smoother. From there on out all you'll need to do is tweak and update it periodically.
Ready to start working on your content marketing strategy. Download the checklist.
Would you rather offload all this work? Check out my content marketing strategy service to relieve the pressure of marketing your business so you can stay working on your business.